Press "Explorer" button. If the new Explorer window filled the whole screen, resize it so that you could partially see OCB include and exclude lists. Now follow this animated demo: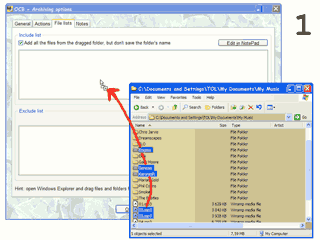 1) Select required files and folders in Explorer, click left mouse button and without releasing it drag them to OCB include list.
2) Release left mouse button and you will see that Explorer window went to background and the dragged files were added to the include list.
3) Go to step 1 to add other files and folders if needed. Do not add subfolders - they will be processed automatically.