Acritum One-click BackUp for WinRAR is a powerful Windows utility that simplifies the management of backup archives. It allows you to create an unlimited number of easily configurable and quickly accessible backup presets. The program has freeware and shareware versions.
---
Limited-time offer!
50% discount
from the
18th September (Monday)
to the
24th September (Sunday)
.
We present our new One-click BackUp for WinRAR version 3.00 with SSL support. During this promo period you save
$30
when you buy this great software!!! Hurry up, the number of OCB copies to be sold at the promo price is limited!
Grab your one NOW!
---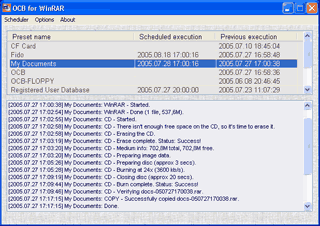 It's important to have backup copies of all valuable documents, so you can restore your information if accidentally erase it, or if you have a hardware malfunction or virus attack. Because creating daily backups is boring, most people don't do it. One-click BackUp takes care of it, making your daily work safier and easier.
The program acts as an easy-to-use backup shell for WinRAR archiver thus providing higher compression and safety of your documents in comparison with ordinary ZIP backups. OCB supports three backup formats for different needs. Firstly, RAR format that introduces 'recovery record' technology allowing you to restore all files even from a physically damaged archive, for instance if your backup CD was scratched. Secondly, ZIP format to be used when ZIP compatibility is of great importance. And finally, EXE format that provides the highest level of compatibility because such archives don't require any software at all to extract your documents.
OCB gives you full access to all key features of WinRAR – compression levels, volumes, password protection, recovery record, etc. You can easily run backup tasks manually or using the backup scheduler. In the latter case OCB can hide itself and create backup archives with a low process priority to let you proceed with your daily work without any inconvenience. Besides standard scheduler features, OCB can also trace the changes in selected folders and create backups as soon as files in these folders are created or modified.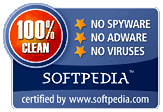 Having created an archive, OCB can store it to a local or removable drive, copy it to a network folder, write it to a CD/DVD disc, upload it to a FTP server or send it to your e-mail. You don't have to remember about your backups until you finally need them. Just set the number of backup copies you want to have and OCB will keep only recent archives and automatically delete old redundant ones. This is quite a useful feature when backing up to FTP servers where the available space it often limited. When backing up to CD-RW/DVD-RW discs, OCB can automatically erase them when there isn't enough room to write a new archive. The minimum of manual work – this is the main conception of One-click BackUp. You don't even have to check if the backups were saved successfully – if something goes wrong, OCB will send you an e-mail explaining why it couldn't complete the job and you will be able to solve the problem right away.
System administrators will also enjoy such advanced features as command line support, remote control of backup processes via Internet or LAN, startup service, anti-hooligan protection and much more…
One-click BackUp for WinRAR runs on Windows 95/98/Me/NT4/2000/XP/2003 and supports English, Dutch, French, German, Italian, Portuguese, Russian and Spanish languages.
Download One-click BackUp for WinRAR.
Buy One-click BackUp for WinRAR.
THE MAD RAT GUIDE: SEE HOW EASY IT IS TO BACK UP FILES WITH OCB!