Acritum Femitter HTTP-FTP Server is an easy-to use HTTP and FTP server application for Windows which allows you to use your own computer for sharing gigabytes of files with your friends and colleagues. No need to pay for expensive hosting! No need to spend hours to upload your files to a remote server!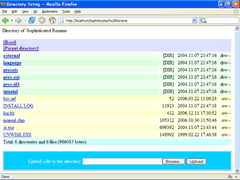 Have you ever wanted to share your files with your friends easily, without having to buy expensive hosting and spending your time on uploading gigabytes of files to the remote server? If your answer is "YES", this software is the right thing for you. You don't have to install any additional software to run the server and you don't have to spend hours configuring your server. As soon as you run the Femitter Server, it's ready to go. There are 3 common ways of using the Femitter Server:
As an ordinary simple web server. Just create a few HTML pages and put them into a shared folder, and these pages will be shown to anyone who connects to your server. This feature can be used as your own web-based Bulletin Board System (BBS). Even if you have a dynamic IP address, Acritum Software is proud to offer you a static URL like http://fem.acritum.com/yourname which will always redirect your users to your computer, no matter what your current IP address is. The visitors to your website will be able to access your computer using any web browser, for example Microsoft IE, Mozilla Firefox, Opera, etc.
As a huge public file storage of your photo, music, video and other files. The total size of the storage is only limited by the size of your hard drive and this is often not less than 500 gigabytes! Your files may be accessible from the net not only using the HTTP protocol, but also using the FTP protocol, which ensures downloads are really fast and easy for your friends.
As a password protected storage of corporate information for small businesses. The access to the server may be protected according to highly customizable access rights. Create user groups and assign different rights to each of them. For example, your clients may have access to the info page with the possibility of uploading files to a certain folder, while your employees may access the whole system, browse all files, upload, rename or delete them.
The list of main features:
Authorized and public HTTP/FTP access (with or without login/password).
Web site and/or directory listing modes are available.
Possibility to allow users to upload files only to a specific folder.
Users are divided to user groups with different FTP and HTTP roots and different download/upload/delete/rename permissions.
User activity reports.
Several color schemes for web-browsing.
Users can be banned by IP.
Autostart with Windows.
URL redirection even with dynamic IPs (http://fem.acritum.com/yourname).
Try example: http://fem.acritum.com/acritum to be redirected to http://acritum.com.
Some other features.
Download Femitter Server.
Warning! This is outdated version and it has security vulnerabilities. Hackers may use it to create files outside allowed folders if they get remote access to your system. Do not use this software unless you understand and accept all risks!
> Download the latest version. Version 1.04, 758 Kb, 30-days trial.
Configuring Router and Firewall software.
If you are connected to your network via a router, you should configure it to allow HTTP and FTP connections to your computer. This feature is often called "Virtual Server".
Windows XP and Windows 2003 Server have a simple built-in firewall. You will not be able to run the server if it is enabled and not configured correctly! If you use a third-party firewall, please refer to its manual to find out how to open the ports that you are going to use. The following is a step-by-step guide how to configure the standard Windows Firewall.
Open Network Connections.
Under Dial-up or LAN or High-Speed Internet, right-click the connection that you want to use to access the server, and then click [Properties].
On the Advanced tab, under Internet Connection Firewall, do one of the following:

If the [Protect my computer and network by limiting or preventing access to this computer from the Internet] check box is unchecked, just close the window, because the firewall is disabled and it won't cause any trouble.
If the checkbox is checked, click Settings button and…

If you use standard ports (HTTP=80 and FTP=21), just check [FTP Server] and [Web Server] checkboxes and click [OK]. If you use non-standard ports, click [Add], enter some name, for example, FEM-HTTP, set ports to TCP and enter the port number. Then click [OK] and add one more rule for FEM-FTP with your FTP port number.
Buy Femitter Server.
| | |
| --- | --- |
| The project was discontinued. | |
.